Women in Industry Lunches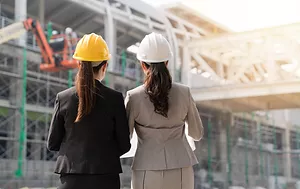 Are you interested in changing the way we think about women in construction and other related industries?
Would you like to meet other like-minded women in construction and industry (also engineering, building services and heavy machinery) and enjoy a complimentary delicious lunch with relaxed networking, engaging conversation and valuable education?
We would love you to come along to one of our regular lunches where you can socialise and network with others in your industry, and engage in some robust discussion around how we can think differently and what we can do about the under-representation of women (11%) in Construction.
DLPA (Dynamic Leadership Programs Australia) is very serious about addressing the lack of opportunities to engage with others from this exciting, unique but challenging industry. We often hear reports of women in construction feeling alone and like they don't have a sense of community or belonging.
You will enjoy a sit-down lunch in a central location. We will facilitate some illuminating and robust conversation around your table about the topics that matter to you, eg flexible working arrangements, high pressure projects and feeling literally like a minority.
Your hosts Karlie Cremin and Laurel McLay invite you to come and enjoy some time away from the building site or the office, and interact with others in a safe, welcoming environment!
Please check out our upcoming lunches on our events page or let us know below if you would like to know when the next dates are for your location in 2019. We are hosting them in Melbourne, Sydney and Brisbane. We also welcome men who are interested in joining this discussion.
There are currently no Women In Industry lunches scheduled. Please refer to our events page for updates, or fill in the form below to be the first to know when upcoming dates are confirmed.
Women in Industry Lunches - Expression of Interest
Our software is designed to support an outcome, not to offer a 'one size fits all' solution.