Women Industry Two-Day Retreats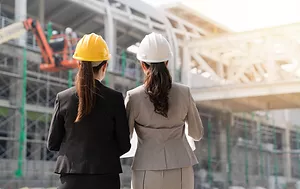 Would you like to participate in a two-day retreat in the Blue Mountains/Yarra Valley with a focus on female empowerment in business?
Following the success of our Women In Construction lunches, we are excited to announce our Women In Industry Two-Day Residential Retreat. 
DLPA is dedicated to confronting the issues that women in industry are facing daily, and invites you to take some time away from the hubbub of the city, in one of the most beautiful parts of the country (choose between Yarra Valley or Blue Mountains). Enjoy two days spent connecting with like-minded women and men, partaking in powerful and informative conversations, relaxed networking, and idea exchange, all centred around tackling under-representation and lack of empowerment for women in industry. 
Each retreat will cover a range of topics, which are centred around the following three pillars; 
Career clarity and skills development

Influence, persuasion and self-awareness

Essential management and operational skills
During the two-day retreat, we will seek to illuminate ways to alleviate female isolation in industry, while forming strong bonds amongst participants, which will continue to be fostered through our alumni community and upcoming networking and social events.
This is a great opportunity to gain a network of support and encouragement for growth, with invaluable training and education to boot.
Please refer to our events page to view our schedule for the year.
Pricing for the Two-Day Residential Retreats is as follows:
– $3,200 per person plus GST for one participant 
– $3,000 per person plus GST for two participants
– $2,700 per person plus GST for three or more participants.
These costs are inclusive of all food, training and accommodation for the two days, and will also provide you with both pre- and post-course one-on-one coaching.
Help us to change the status quo by empowering women, equipping them with the necessary personal and professional leadership skills needed to confidently and competently navigate all aspects of work and life.
If you are interested in participating in this two-day program, or would like more information, please fill in the form below, or contact Laurel on 03 9016 9300 or email laurel@dlpa.com.au. 
Please refer to our events page to view our schedule for the year.
Women in Industry Two-Day Retreat -
Expression of Interest
Our software is designed to support an outcome, not to offer a 'one size fits all' solution.